Do you ever wonder why people cannot find the perfect job, or build a successful business, and end up feeling frustrated or bitter?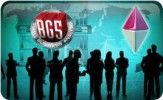 The answers are in knowing one's  Career Type and best Work Environment, one's Personal, Decision Making and Interaction Strategy, just to name a few.
The first step to material well-being is the correct career choice.
In other words, we have to unlock the client's BG5™ Career Design. As a BG5 consultant you can help clients discover their Career Design.
You can help business owners put together teams that not only work, but thrive.