In this analysis over two  60-minute sessions with time for questions. You will be provided with a recording of your analysis and supporting documentation. , you will  receive practical individual guidance in terms of how to incorporate this within your career and business scenarios.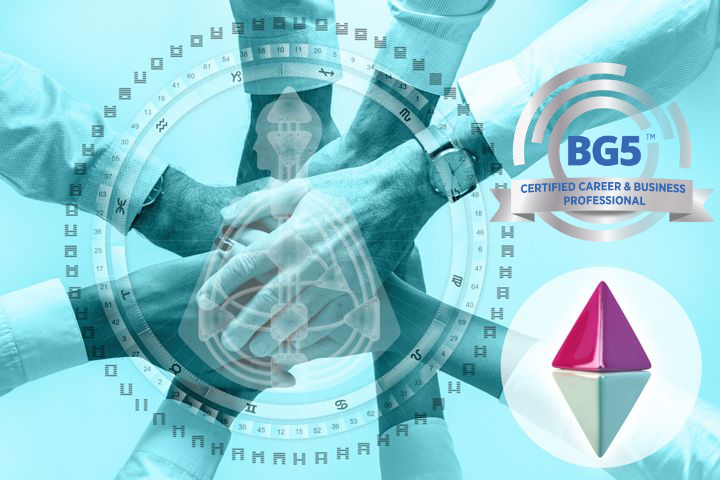 Your Full BG5™ Career Design Analysis contains the 16 tools that you will need to navigate your work life as either an employee or a business owner:
Career Type (How do you best express yourself in the world and get things done?)
Personal Interaction (How do you best interact with others: your non-verbal presence?)
Decision-Making Strategy (Knowing how to make the best decisions with confidence and correct timing is the key to removing resistance and experiencing success)
Key Indicators (Important signposts to keep you on track)
Assimilation (How do you process information?)
Environment Style (In what work setting do you operate best?)
Business Skills (What abilities do you bring to the table?)
Team and Business Attributes (What do you bring to small groups?)
Defined Functions (Which functions define your consistent strengths?)
Shadows/Distractions (Where are you taken off track – and where do you make the most money?!)
Public Role (How do you manifest your purpose in the world?)
Life Work (What is the overall theme of your purpose in the world?)
General Thematics (Are you focused on Empowerment, Sharing or Support in your work?)
Strengths and Contributions (What are the gifts that you bring to the world?)
Traits and Qualities (What is your unique expression of these gifts?)
Large Business and Group Strengths (Do you belong in large groups – and if so, how and where do you fit?)
Once you discover the above, you will find more wellbeing, satisfaction and success in your career or business.
Where: By appointment via Zoom meeting.
Duration:  two 60 minutes sessions 
Fee: $500 Special  Holiday discount (usual price $600)
Don't forget to e-mail your birth data (date, exact time and place of birth) to Josette